In the Community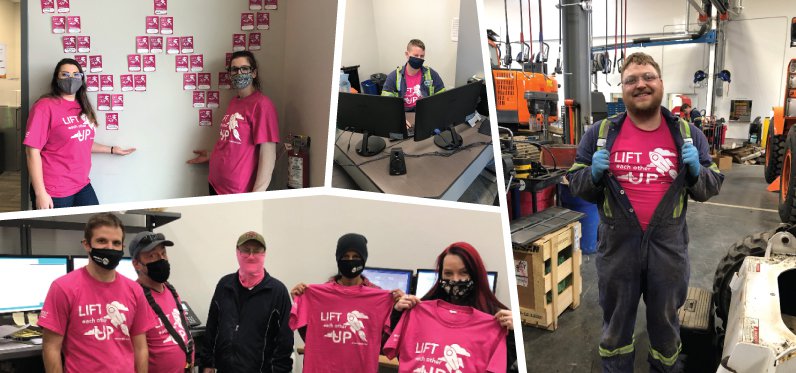 Wesgroup Equipment In The Community
The Wesgroup Equipment family of companies live by a set of core business values. Our commitment towards our people, our customers, our community, and our planet forms the foundation of our identity. By caring for our people and our customers, by giving back to the community, by investing in young minds, and by making greener choices as a business, we are looking to create a system that flourishes by helping each other. Our involvement includes supporting charitable causes, protecting the safety of our employees and customers, and supporting education for developing future employees in trades.
W.E. Care
Caring for our people, our community, and the planet is what guides us. Our core values lead the way for us to keep a safe work environment for ourselves and others, continue learning and growing, be active in our communities, and reduce our impact on the environment.
Formed in 2016, the Wesgroup Equipment (W.E.) Care Committee includes team members from our family of companies and is committed to improving the well-being of our employees, supporting our communities, and promoting sustainable business practices. Each year, the W.E. Care committee supports more than 10 charities and has provided more than $200,000 to various groups in need.
These charitable programs focus on families, children, and cancer research. Being a BC Regional Sponsor for the Canadian Cancer Society, we support them with different campaigns throughout the year. In 2020, along with the Canadian Cancer Society, the BC Children's Hospital, and local Food Banks, we supported 10+ different charities across the province and donated a total of $40,000.
Safety of our People
The Wesgroup Equipment family of companies, has a culture that is focused on, and promotes the safety and well-being of our employees. Our Joint Occupational Health and Safety Committee (JOHSC) works to ensure that company Health and safety processes are up to date, policies for managing incidents are refined, and resources are readily available. Being COR certified gives us the stamp of approval from the BC Construction Safety Alliance for having a work environment that fosters safety for all.
The Certificate of Recognition (CORTM) is a voluntary program that recognizes companies who develop and implement health and safety, and injury management systems which meet industry standards. In 2020, we were audited by Worksafe BC and received our highest ever rating of 96% which reconfirmed our CORTM certification.
Community Involvement
By partnering with British Columbia Institute of Technology (BCIT) through a multi-year sponsorship program, we decided to invest in our future generations and encourage representation in trades. Through this initiative, we support students in the Professional Sales Marketing program as well as invest in students in the Heavy Mechanical Trades Foundation Program. A part of our sponsorship goes directly to the Women in Technology Fund (WITF) to support women pursuing a career in trades. In addition to monetary support, we also donated used equipment to BCIT so that students can learn about repairs and maintenance of equipment hands-on.
Apart from BCIT, we also support University of the Fraser Valley (UFV) through our multi-year sponsorship. This program is geared towards the Heavy Mechanical Trades Foundation Program and includes monetary support as well as donation of used equipment. We also employ apprentices at all of our locations as students work towards gaining their Red Seal Certification.
Through supporting education in the trades, we not only help students develop essential skills and assist with the cost of education, but we also help to build potential employees as students graduate from these prestigious programs.