Championing Employee Wellness and Career Development as a BC Top Employer
February 13, 2023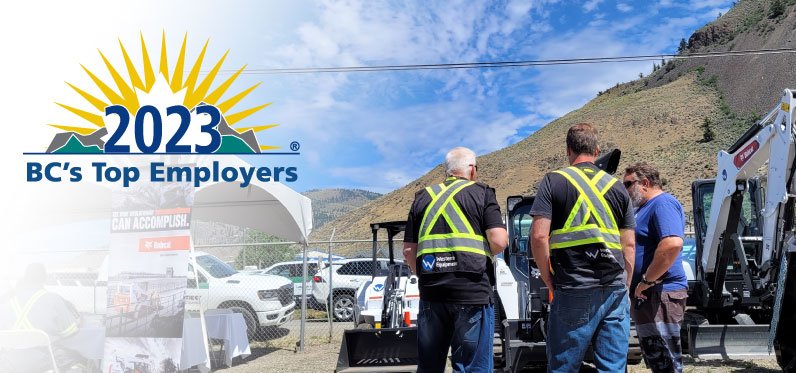 Wesgroup Equipment is named one of BC's Top Employers of 2023 for the sixth year in a row.
Ensuring our that people are taken care of and advancing their skillsets has always been a top priority for Wesgroup Equipment and our Family of Companies. From offering full employee benefits to funding employee-specific training, and having an ongoing dedication to safety, we are entirely committed to being a great place to work.
Looking to jump start or grow your career in the equipment industry?
The foundation of our company core values boils down to building trust with everyone who encounters our organization – employees, customers, suppliers, and more. Thus, we are very proud to be recognized for the sixth year in a row as one of BC's Top Employers. Receiving this award multiple years in a row not only motivates us to continuously enrich our company culture, but also holds us accountable for providing our employees with a fun and safe working environment.
This award considered multiple facets of our business including physical workplace, work atmosphere and communication, employee benefits and compensation, family-friendly policies, employee engagement, training and development, vacation policies, and community involvement.
A few highlights to why we were selected as a 2023 BC Top Employer include:
Wesgroup Equipment LP supports ongoing employee development with tuition subsidies for courses at outside institutions along with a range of in-house training options throughout their careers, from mentorships and apprenticeships to leadership training and financial bonuses for certain course completions.
Wesgroup Equipment LP helps employees prepare for the future with matching RSP contributions and retirement planning assistance - and also offers phased-in retirement work options that allow employees to gradually reduce their hours.
Wesgroup Equipment LP encourages employees to become recruiters for the company with generous new employee referral bonuses ranging from $1,500 to $3,000, depending on the position.