#PinkItForward 2018
February 16, 2018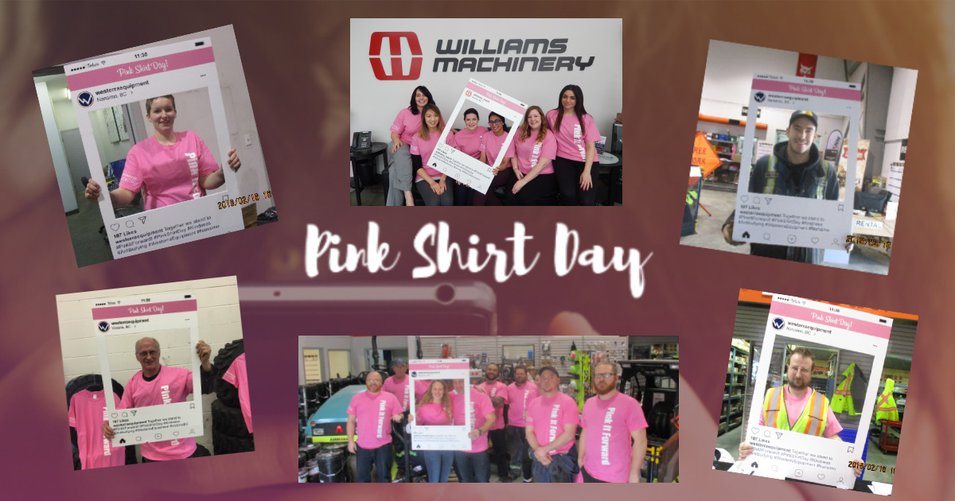 Wesgroup Equipment and our family of companies are excited to kick off our two-week campaign to support Pink Shirt Day on Wednesday, February 28, 2018. In today's digital world, it can be impossible to escape online bullying, whether it takes the shape of harassment, spreading rumours, sharing embarrassing information or threats.
This year, Pink Shirt Day is encouraging others to combat cyberbullying by thinking twice before posting something negative, and instead using the internet to spread kindness – because we know that Nice Needs No Filter. Over the month of February, and throughout the year, CKNW Kids' Fund's Pink Shirt Day aims to raise awareness of these issues, as well as raise funds to support programs that foster children's healthy self-esteem.
During our two-week campaign, our store in Surrey, and all our Williams Machinery and Westerra Equipment locations are fundraising by selling buttons, bracelets, and taking Pink Shirt selfies. All proceeds from the sale go to the CKNW Orphans' Fund in support of anti-bullying programs.
Stop by our locations and join us to take a stand against bullying!