People Matter at a Top Small & Medium Employer
June 5, 2020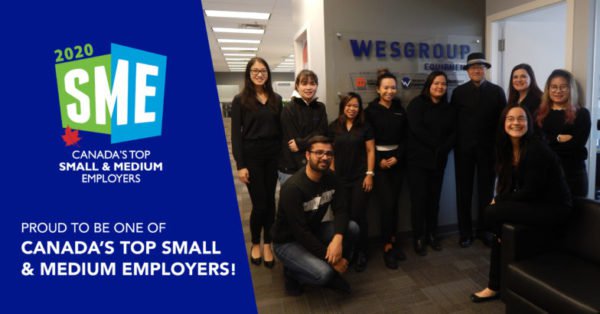 As a small to medium-sized business, our people matter a lot. Your contributions are what drive our successes as a business, day in and day out. At Wesgroup Equipment, we want to be a great place to work for our employees, with the right people, benefits and perks that make you proud to work for us.
It starts with our people. We are committed to recruiting and retaining the right people for our roles. When you join Wesgroup Equipment, you become apart of a community of individuals committed to shared values and working together to make a difference.
As a family of companies, we understand what your family means to you. On top of a competitive benefits package for all our employees, we also offer several family-friendly policies. We want to help you achieve a work/life balance through flexible work options and maternity benefits.
Being a lean team, our employees work extra hard to keep our business running every day. At Wesgroup Equipment, we don't let hard work go unnoticed. From weekly fitness sessions run by our CEO, Summer barbecues and holiday parties, you have an opportunity to have some fun and experience our friendly and collaborative culture
We know that small teams can create big successes. That's why we're proud to be recognized as one of Canada's Top Small & Medium Employers (SME) for the third year in a row!
The full list of Canada's Top Small & Medium Employers has been announced in a special magazine published nationally in The Globe and Mail on June 5, 2020. Read our reasons for being selected as one of Canada's Top Small & Medium employers on our company profile, available here.
Looking to join a great place to work? Check out our Careers Page to find your next job opportunity.