Training and Development with a BC Top Employer
February 19, 2020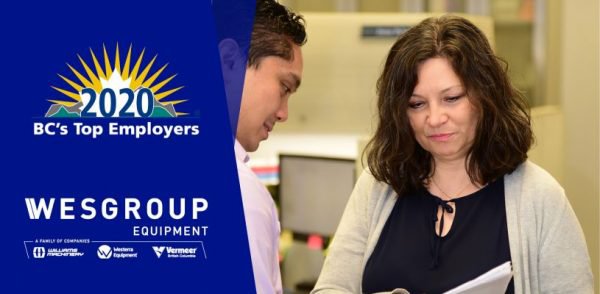 The success of a company relies on the successes of its employees. You're looking for your next career at a company with the leadership, training and growth opportunities that can help you succeed. At Wesgroup Equipment, and our family of companies, people matter a lot. That's why we offer all our employees numerous ways to develop their careers. 
We offer opportunities including online training for technical and soft skills, management & leadership training and equipment sales training. Every year, we create a development plan with our employees to help them meet their career goals. Last year, our employees completed 5500 of training.
We are proud of our commitment to training and development and proud to be recognized as one of BC's Top Employers for 2020. This is our third consecutive year winning the award.
"The criteria for winning this award includes measures such as workplace atmosphere, communication, performance management, community involvement, benefits and more.  I am delighted for winning another BC Top Employer award which reinforces my belief that our success is a direct reflection of having the right people to grow our business," Dhar Dhaliwal, CEO.
Visit the competition homepage for a detailed list of all the reasons for our selection. You can also check us out in the Vancouver Sun's BC's Top Employers special edition, available on February 19, 2020.
Are you looking for your next career in service, parts or sales at one of BC's Top Employers? Visit our careers page to learn about our current job openings.