Wesgroup Equipment Acknowledged for our Commitment to Employee Wellness and Recognition
April 5, 2022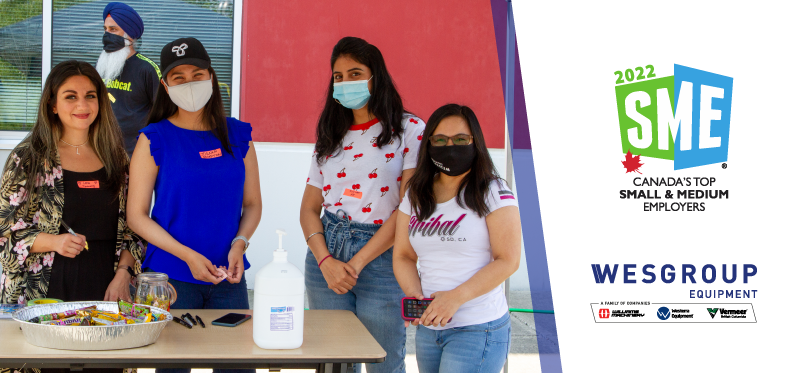 We are happy to share that Wesgroup Equipment and our Family of Companies have been named one of Canada's Top Small and Medium Employers for the fifth year in a row.
Our people are at the core of what we do. Having the right people on our team and treating them well is the start of a strong culture, an excellent customer experience, and ultimately a thriving business. We take the time to hire the right people, train them, coach them, and reward them for their successes. From employee training to benefits and recognition, everything roots back keeping our teams happy.
---
In 2022, Wesgroup Equipment was chosen as one of Canada's Top Small & Medium Employers because of our dedication to flexibility and rewarding successes. Specifically,
Wesgroup Equipment LP provides new mothers with maternity leave top-up payments, to 75 per cent of salary for up to 15 weeks, and offers the option to phase in their return to work as they transition to their new roles as parents
Wesgroup Equipment LP recognizes exceptional employee performance through the peer-nominated monthly G.R.I.T. Awards that culminate with an annual five-day and four-night trip including air, hotel, and ground transportation for each employee winner and a guest

Check out our current opportunities and experience our company culture.
Learn more about why we were selected as one of Canada's Top Small & Medium Employers here.