Wesgroup Equipment Named BC's Top Employer 2021 for the Fourth Consecutive Year
February 16, 2021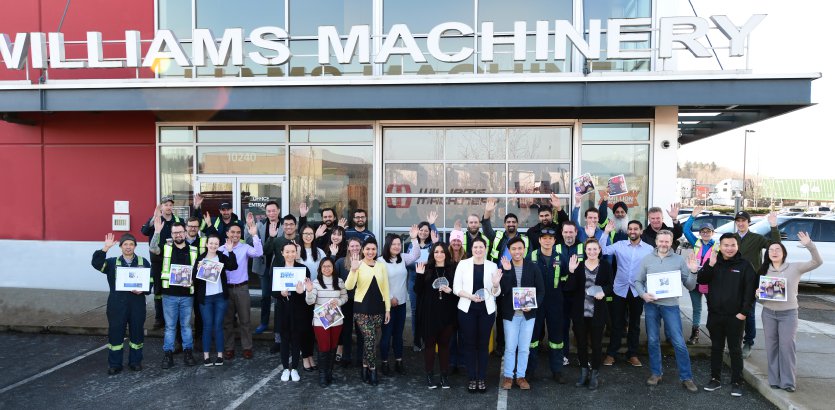 We are elated to receive the BC's Top Employer award this year.
Recognizing the impact of our people, we are committed to being a great place to work. The success of our company relies on the success of our staff behind the counters, in the shops, and in the office. And so, to foster great relationships with customers, we first start by building a great community internally. "Good business is about people not just equipment," commented our CEO, Dhar Dhaliwal.
Throughout 2020, we worked to enhance our workplaces which led to our recognition as a top employer. Some of these key initiatives included advocating for employee growth, pivoting operations amidst a pandemic, and supporting the community.
Championing Employee Growth
It is important for us to ensure our employees are developing their careers. Advocating for employee growth, we offer apprenticeships, in-house and online training, and tuition subsidies. Training opportunities include technical and soft skills, management and leadership training, and equipment sales training. All this is in efforts to help our employees establish personal development plans and reach their career goals.
Adapting Quickly to New Procedures
With the rise of COVID-19, we had to promptly re-envision our workplace. "For us, this meant revisiting our business models, accommodating employees to work at home, adapting to disruptions in supply chains, and more." Says CEO, Dhar Dhaliwal. "I'm very proud how our teams around the province pulled together to support each other."
It was our top priority to ensure employees were safe and healthy during this transition. Strict protocols were adopted, and morning meetings were held to check up on the well-being of fellow employees. To prevent the spread, we engaged in social distancing, mandatory-masks, and frequent sanitations. These quick and stern rules alleviated staff and in turn kept the business running at full force.
Supporting Community and Employee Wellness
Despite these circumstances, our dedication to supporting communities and employees has not wavered. In 2020, we continued to support local charities and foodbanks throughout the seasons. Internally, our Wellness Committee supports employees with resources and the company provides a generous lifestyle spending account to encourage healthier, happier lifestyles.
---
At Wesgroup Equipment, we cherish our employees.
Together, we work as a solid team achieving our corporate goals and living out our values: Build Trust, Deliver Results, Be a Team Player, Be Customer Focused, and Support Community. Once again, we would like to extend our gratitude for being recognized as one of BC's Top Employer for the fourth year in a row. Equally so, we thank all our employees for building Wesgroup Equipment into the company it is today.
Read about us in this Vancouver Sun feature. Also, learn more about why Wesgroup Equipment was selected again this year and join our award-winning team for your next career.