Wesgroup Equipment Named a Best Managed Company for the Fifth Year in a Row
May 3, 2022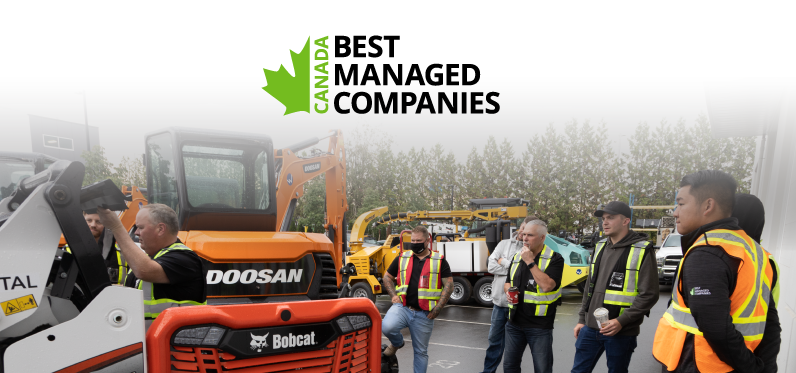 We are proud to share that Wesgroup Equipment and our family of companies have been recognized as one of the 2022 Best Managed Gold Standard companies. It is our second year receiving the gold standard designation, and our fifth year as one of Canada's Best Managed companies.

Our People-Focused Company Culture
Having the right people on our team and treating them well is fundamental to our company culture. Cultivating a work atmosphere with trust, belongingness, and growth is critical to our business. From supporting employee personal development goals to presenting internal employee awards, we make sure our teams have the tools for success and are awarded for their great work!
Trust and Belonging
Transparency and communication are key to fostering trust and belonging with our people. We regularly share company-wide progress on organizational goals to staff at all levels. This helps build a cohesive understanding of objectives and creates an inclusive internal community. In our 2021 employee engagement survey, we found that:
91% of employees agree that "I trust my manager".
90% of employees agree that "my managers trust me".
88% of employees agree that "my manager ensures I understand how my work contributes to the company's overall strategy".
87% of employees agree that "as an employee of my company, I feel a sense of belonging".
Growth Opportunities
As advocates for continuous learning, Wesgroup Equipment's approach to training and development is that each employee's growth is critical to our success. We value learning and support our employees in developing their skills no matter where they are in their careers: entry level, mid-level, or executive. Equipping our teams with the right skills to excel at their jobs, various training opportunities are available to help develop their professional careers. Additionally, managers work closely with their direct reports to mould personal development goals that match the individual's keen interests.
87% of employees agree that "as an employee of my company, I have opportunities to learn and grow".
87% of employees agree that "managers maintain productive relationships with employees through support, coaching and recognition".
Our dedication to our people and strengthening our culture has led us to become an award-winning company. And for these same reasons, we were selected again as one of Canada's Best Managed Companies in 2022.
View a full list of Canada's Best Managed Companies for 2022 at www.bestmanagedcompanies.ca.
See our current career opportunities and join our team.
---
About Canada's Best Managed Companies
Canada's Best Managed Companies continues to be the mark of excellence for Canadian-owned and managed companies with revenues over $50 million. Every year since the launch of the program in 1993, hundreds of entrepreneurial companies have competed for this designation in a rigorous and independent process that evaluates their management skills and practices.
The awards are granted on four levels: 1) Canada's Best Managed Companies new winner (one of the new winners selected each year); 2) Canada's Best Managed Companies winner (award recipients that have re-applied and successfully retained their Best Managed designation for two additional years, subject to annual operational and financial review); 3) Gold Standard winner (after three consecutive years of maintaining their Best Managed status, these winners have demonstrated their commitment to the program and successfully retained their award for 4-6 consecutive years); 4) Platinum Club member (winners that have maintained their Best Managed status for seven years or more). Program sponsors are Deloitte Private, CIBC, The Globe and Mail, Saleforce, and TMX Group. For more information, visit www.bestmanagedcompanies.ca.