Wesgroup Equipment Named one of Canada's Top Small & Medium Employers for 2019
April 12, 2019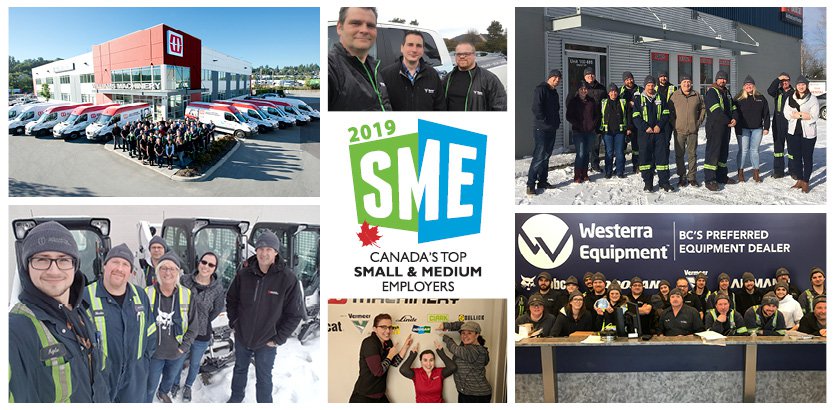 April 12, 2019, Surrey, BC – Wesgroup Equipment and our Family of Companies are honoured to be named one of Canada's Top Small & Medium Employers for the second year.
Now in its 6th year, Canada's Top Small & Medium Employers recognizes small and medium (SMEs) that are committed to offering the best workplaces and forward-thinking human resources policies. Each employer is evaluated on several criteria, including physical workplace, health, financial & family benefits, employee communication and more.
"The companies that make this list are fast-growing employers that need to innovate rapidly," says Richard Yerema, Managing Editor of the Canada's Top 100 Employers project. "Some have doubled in size over the past year, but all of them are looking for new ways to attract the best and brightest employees so they can keep growing."
The full list of Canada's Top Small & Medium Employers was announced in a special magazine published nationally in The Globe and Mail this morning. Detailed reasons for selection with hundreds of additional stories and photos were also released this morning and are accessible via the competition homepage.
 About Wesgroup Equipment
Wesgroup Equipment is a full-service construction equipment and material handling distributor operating in British Columbia. Proud of our BC heritage, we have chosen Surrey, BC as our head office, but we cover the entire province operating out of 7 different locations throughout BC. Wesgroup Equipment and our Family of Companies is made up of: Williams Machinery, Westerra Equipment and Vermeer BC. With our strong footprint and great range of products we are committed to becoming a leader in the industry by growing a culture that exemplifies service and prioritizes relationships over transactions.
---
Media Contact: Kathy Fowler, Marketing & Communications Manager 604.930.3390 kfowler@wesgroupequipment.com