Wesgroup Equipment Partners with UFV for 3-year Trades Sponsorship & Award
May 9, 2019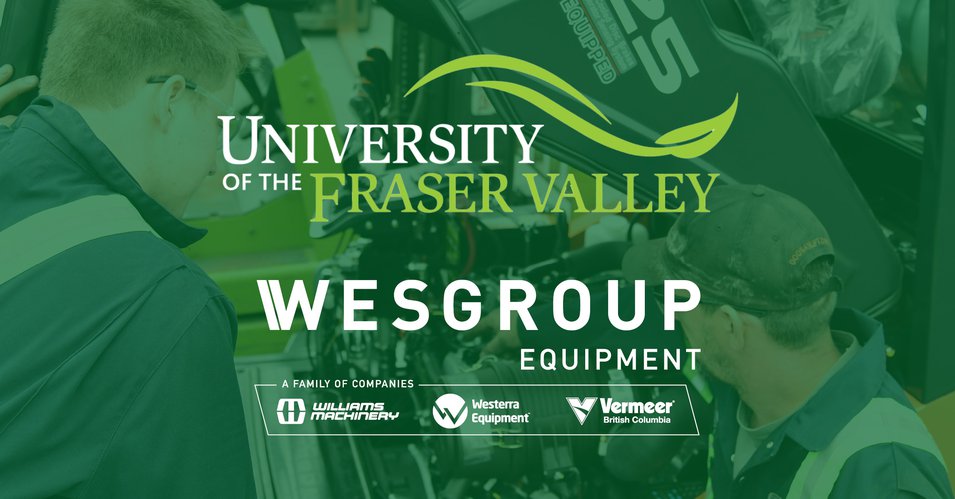 Wesgroup Equipment and its Family of Companies have partnered with the University of the Fraser Valley to support students entering into their Heavy Mechanical Trades program with a 3-year sponsorship and annual student achievement award.
"We are thrilled with and very grateful to Wesgroup for the support they are providing. Equipment donations and financial support to students are very significant in helping young people achieve their career goals and supporting the Univeristy in the service of the industry and the community," John English, Dean, Faculty of Applied and Technical Studies.
Wesgroup is committed to education and fostering growth in the trades sector.
"Skilled trades are key to keeping the economic engine of British Columbia running and this career path is full of opportunities. We look forward to building an on-going relationship with UFV and working with students in the program,", Dhar Dhaliwal, CEO.
Read UFV's announcement here.
About Wesgroup Equipment
Wesgroup Equipment sells, rents and service compact, heavy and material handling equipment. Wesgroup Equipment and our Family of Companies is made up of: Williams Machinery, Westerra Equipment and Vermeer BC. With our strong footprint of 8 locations throughout BC and great range of products we are committed to becoming a great service organization through a values-based culture that exemplifies service and prioritizes relationships over transactions.
Media Contact: Kathy Fowler, Marketing and Communications Manager kfowler@wesgroupequipment.com 604.930.3390