Williams Machinery Celebrates Three Years in Partnership with the Canadian Cancer Society
February 20, 2019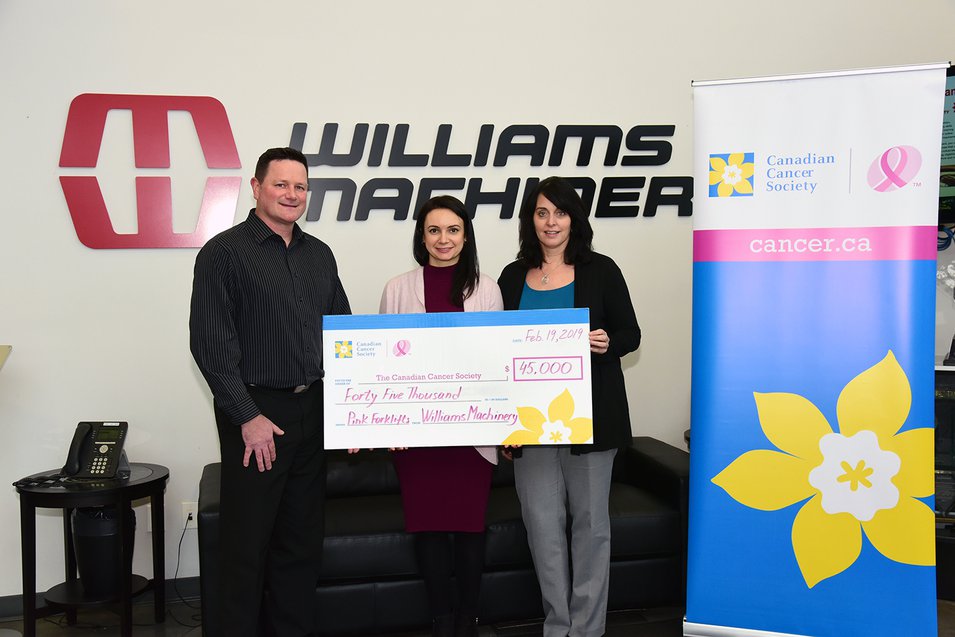 Surrey, BC, February 20: Williams Machinery celebrated the third year of its Pink Forklift Program with a $15,000 donation to the Canadian Cancer Society (CCS) on Friday, February 19th.
In 2016, Williams Machinery partnered with the Canadian Breast Cancer Foundation (now CCS) to support the foundation's effort through the Pink Forklift Program. Two CLARK forklifts were custom painted and added to the rental fleet in Surrey with 100% of the operating profits donated to the CCS.
Kevin Dowle, Operations Manager at Williams Machinery and Kathy Fowler, Chair of the company's W.E. Care Committee were on hand to present the cheque.
"It's been an honour to partner with the Canadian Cancer Society," said Kathy. "Through the Pink Forklift Program, our contribution over the last three years now totals $45,000. We want to thank our customers for working with us to support vital cancer research."
About Williams Machinery Williams Machinery is part of Wesgroup Equipment the parent company of a family of equipment dealers that also includes Westerra Equipment and Vermeer BC. We take pride in being the chosen British Columbia dealer for premium equipment brands such as Linde, Clark, Doosan, Bobcat, Konecranes, Ammann and Vermeer. Williams Machinery is proud to be one of BC's Top Employers.
Media Contact:
Kathy Fowler, Marketing & Communications Manager 604.930.8819 / kfowler@wesgroupequipment.com