Williams Machinery an exclusive dealer of Terberg
February 14, 2018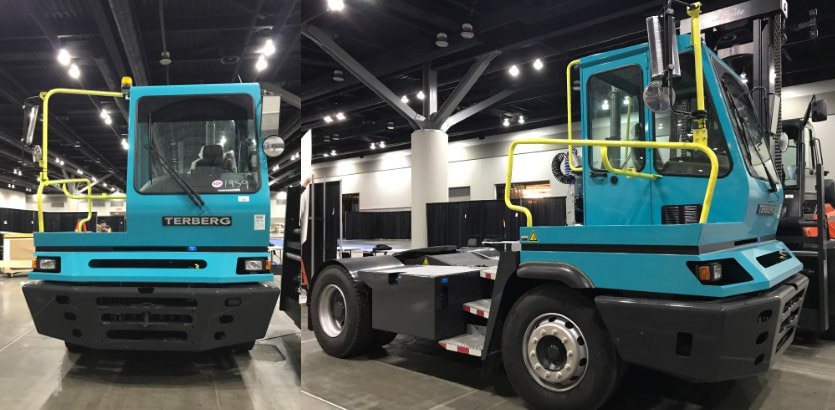 Vancouver, BC, February 6, 2018: Williams Machinery showcased the latest addition to its product line at the 2018 Cargo Logistics Expo held in Vancouver from February 6 – 8. Cargo Logistics is the largest multimodal expo and conference in North America.
Terberg tractors are used in ports, distribution centres, heavy industry and other settings. Available in over 90 countries, these vehicles are an efficient option for handling trailers and swap bodies. The range includes yard tractors, RoRo tractors, industrial tractors and road/rail tractors which are used in ports, distribution centres, heavy industry, railway shunting yards, tunneling sites and airports.
"Terberg is great compliment to our line of Konecranes which we took in 2014," says David Lavigne, Sales Manager for Williams Machinery. "This allows us to offer our customers an option to increase the efficiency of their operations through cargo automation packages."
Terberg tractors offer high performance and reliability and the lowest maintenance effort and fuel consumption. The line includes:
YT yard tractors (4x2 drive) are our basic model for shunting trailers
TT terminal tractors (4x2) are designed for applications requiring extensive reversing, where a 180° swiveling seat is essential
RT RoRo tractors feature 4x4 drive and our 180° swiveling seat. The range also includes a heavy-duty industrial tractor
BC body carriers carry swap bodies and shunt semitrailers
RR road/rail tractors operate on both roads and railway tracks
About Williams Machinery Williams Machinery takes pride in being the chosen British Columbia dealer for premium equipment brands such as Terberg, Linde, Clark, Doosan, Bobcat, Konecranes, Ammann and Vermeer. Williams Machinery is part of Wesgroup Equipment the parent company of a family of equipment dealers that also includes Westerra Equipment and Vermeer BC.
Media Contact: Kathy Fowler, Marketing & Communications Manager 604.930.8819 / kfowler@wesgroupequipment.com