Paving the way with innovations to better serve our customers, employees, and environment
May 9, 2023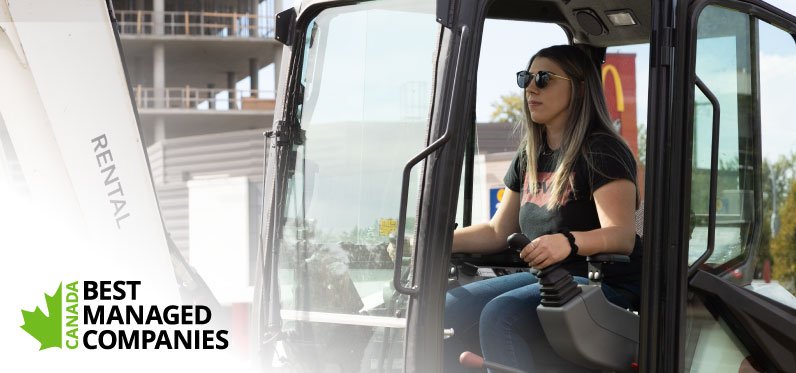 Defying the traditional norms of the heavy industrial market, Wesgroup Equipment eagerly adopts innovations to constantly improve our customer and team experiences. This is one of the many reasons our family of companies has been recognized again as one of Canada's Best Managed Companies. We're proud to have maintained our Gold Standard designation for the third year in a row, thus adding up to six years as a Best Managed company.
Commitment to our customers
Wesgroup equipment recognizes the ever-changing state of the market and adapts our business to meet customers where they are. This past year, we launched a customer loyalty program, the G.R.I.T. Advantage, which lets customers earn points on equipment purchases, and redeem discounts on service transactions. We also revamped our website with enhanced filtering capabilities and inventory flows, as well as upgraded equipment training with new satellite training spaces and renewed class materials.
As we continue to grow our business, we look towards improving our customer touch points and expanding our OEM portfolio to provide the best equipment solutions.
Commitment to our people
We are a team of people-focused problem-solvers. In our company, individual effort makes an immediate difference and collectively has a massive impact on our business and our customers' needs. At the end of the day, having the right people on our team and treating them well is key to creating a strong culture and exceptional customer experience.
When you work with the Wesgroup Equipment family of companies, you get competitive pay, work-life balance, a safe workplace, and career development opportunities. We are a diverse and inclusive organization that makes a conscious effort to acknowledge a job well done and celebrate employee successes.
Are you ready to advance your career and join our award-winning team? Check out our current openings.
Commitment to sustainability
In 2022, we declared our commitment to sustainability through a partnership with One Tree Planted. For every machine sold, we will plant 10 trees locally in British Columbia. Beyond this commitment to reforestation, we also looked at our internal operations to find areas to minimize waste and recycle more. And we introduced new green benefits to our employees to encourage greater sustainability in their daily lives.
Read more about our commitment to sustainability.
Learn more about our win and View a full list of Canada's Best Managed Companies for 2023 at www.bestmanagedcompanies.ca.